On Nov. 27 United Methodists are invited to extend the spirit of giving thanks into the Advent season as they #GiveUMC on #GivingTuesday. Please consider UMCOR Sager Brown. The disaster relief program provides relief to those most vulnerable. On Tuesday, November 27, United Methodists are invited to extend the spirit of giving thanks into the Advent season as they #GiveUMC on #GivingTuesday. Please consider supporting UMCOR Sager Brown and its Disaster Relief Ministry. The disaster relief program provides humanitarian relief to those most in need at their most vulnerable time. Our mission to provide hope and healing can only be achieved through your support. Contributions can be made online at http://UMCmission.org/giving-Tuesday.
It is almost time to decorate for the season of Advent and Christmas! Save the date and plan to help decorate on December 1st at 10:00 am!
Ladies Shopping Night at Burks UMC
Friday November 30th 5pm
Come and get some shopping done for the holiday season!
We will have Pampered Chef, Tupperware, Rodan and Fields, Luluroe, Mary Kay and Many crafters with great Christmas gifts.
Young at Heart at Burks United Methodist is active again for the holiday season! Our ornament exchange will be on Dec 6th in the Narthex. There will be a catered lunch, $5 per person. Great Company, great food and lots of fun! Don't forget to bring a wrapped ornament to share!
Our drive through nativity story will be Dec. 8th from 6-8 pm! There will be live Carolers to greet you, a cd or audio file to accompany you on your drive through the story, live animals and humans to entertain you and candy canes at the end! Come celebrate the Christmas Season at Burks United Methodist Live Nativity!
Christmas Party at Youth! A nacho bar, silly games and Dirty Santa (white christmas)!
what more could you ask for from a Youth Christmas.
Bring a silly (church-appropriate) gift valued at < $5 to exchange!
Manger Mania! The story of Christmas. . . with a unique twist! You'll meet some of the animals who were displaced by the birth of Christ, the Innkeeper who hesitantly gave up the manger for the weary parents, and three "cool guys" who outwit the nasty Herod. . . it's a Christmas party like you've never seen before!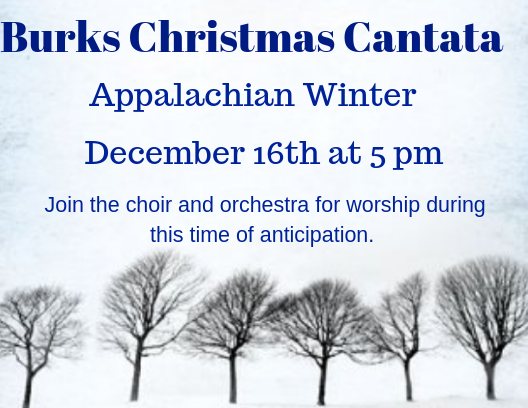 Burks UMC Choir is partnering with Red Bank UMC for the Christmas Cantata this year! They are presenting "Appalachian Christmas" by Joseph Martin.
With orchestral accompaniment and the combination of these talented choirs promises to create a wonderful place and time of worship. Join us for a time of anticipation for the coming of the Lord.
December 16th at 5 pm at Burks UMC
- Childcare for children 6 mo. -4 yrs old is available, children are always welcome in the services.
December 19th at 6 pm at Red Bank UMC
It is hard to always be in a season of great joy when you are grieving. The Service of the Longest Night is especially for those who are grieving the loss of a loved one. It is a time of reflection and quiet. Join us at 6:30 on December 21st in the sanctuary.
Parent's Night Out: Gingerbread Night!
Children 6 mo. - 5th grade are welcome to join in for a night of gingerbread fun. Parents take a night off to finish shopping, date night, or sleep before Christmas time! Your children will play fun games, craft it up, eat, decorate a gingerbread house and watch "The Star."
Plus there is a large cardboard gingerbread house!!!
Sign up soon because this month we are capped out at 60 children! Registration opens November 16th at 6 pm and Registration closes on Dec. 19th at 2:00 pm
Christmas Eve services are offered at 5pm and 11 pm December 24th.
There will be a celebration of the Holy Eucharist. All are welcome at the table regardless of race, gender, ethnicity, or religion.
The offering that evening will go toward the Helping Hands Fund which is used strictly to help those in need around our community through food boxes and emergency assistance.